I played in the world's most prestigious concert hall. Here's how it went.
At first, I didn't know whether to be excited about playing at Carnegie Hall or scared for my geometry regents the next day. While driving to the city, I decided Carnegie definitely takes the cake. Playing at Carnegie Hall is a once in a lifetime experience, that I most likely will never get the chance to do again. My geometry grade could suffer.
July 20th, 2019. A Thursday. 
This day was very special for the orchestra I play in, the Children's Orchestra Society, or COS. Today was the 25th annual discovery concert and the 50th-anniversary gala benefit concert. This orchestra was founded in 1962 in New York by Dr Ma, the father of Yo-Yo Ma, the cello prodigy, and Dr Yeou-Cheng Ma, an accomplished pianist and violinist. Dr Ma retired in 1977, causing a seven-year hiatus. However, in 1984, Dr Yeou-Cheng Ma became COS executive director, even while working full-time as a developmental pediatrician. She never imagined her life unfolding that way, but her husband, Michael Dadap, an accomplished guitarist, always wanted to run a children's orchestra. It started up again with less than 20 students, but it quickly rose to fame due to the association with Yo-Yo Ma. COS now has about 145 musicians involved in four orchestral divisions and various other chamber groups.
I made it just in time for the dinner service — I had the earth science regents that afternoon so I missed call time. The combined rehearsal with every orchestral division is from 6-6:30. At 6 when we were lining up for entering the stage, I started to get more nervous because reality hit me: I was going to be playing at Carnegie Hall. When we actually all walked on stage for the first time, it was mesmerizing. COS had rented out the biggest hall, the Perelman stage. The dress rehearsal was a little shaky at first, but it was probably due to all the nerves in the room. Also, some reporters were there taking photos of us. 
When we got off the stage after the dress rehearsal, I'm pretty sure everyone was buzzing with excitement. It was only 30 minutes until the concert started. 
Our performance went really well. It was shocking to see all the seats filled in the audience. It felt great to know that we were gonna be heard, really heard. Over 1,600 people attended the concert. it was such a great experience. My parents and my brother also appreciated being able to sit in Carnegie Hall. I sat in the audience after our piece was over. The more elite orchestral division, YSE, was able to play with Ray Chen, an accomplished violinist from Australia. We had over 200 performers on stage, including 40 alumni.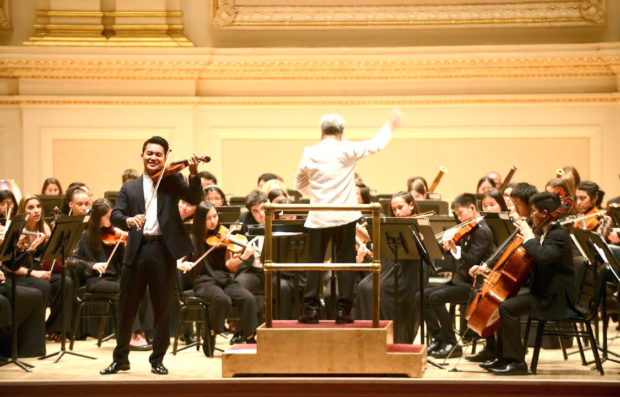 I personally believe that everyone should go listen to a professional orchestra or band one day in their life. Maybe not even a professional orchestra, it could be a youth orchestra. There are many prestigious youth orchestras due to the popularity in spreading the language of music. Music should be a part of everyone's life. 
Read the New York Times' article about the Children's Orchestra Society's backstory. 
Here are two youtube videos of our performance:
Ray Chen's Solo (Video Recorded by Yasuko)
Quinquagenarius by Harold Gutiérrez (Recorded by Harold Gutiérrez)